I love My Naughty Little Sister, and always have done. Mum read these to me a lot when I was youngish and I really enjoyed them all. They are especially special because they are illustrated by Shirley Hughes.
I love the way the older sister is shares first-hand experience with her readers, and confides to them as she relates each shockingly cheeky episode of her little sibling's escapades. Each book contains many short chapters; each one is a separate story on its own. Perfect for bedtimes for small people.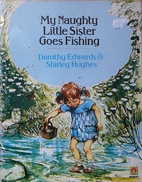 My absolute favourite story was My Naughty Little Sister Goes Fishing. We had a single story picture book version of this one, with colour illustrations, and I found it all so appealing- packing baskets of sandwiches and paddling about in rivers with nets, with the hope of catching fish. Of course it doesn't all go to plan when you have a sister as adept at misbehaving as this one and inevitably there are tears, and fully drenched clothes.
I also really liked Bad Harry's Loud Coat. And it was this particular Bad Harry, this best boy-friend of My Naughty Little Sister, who leads her so badly astray in this particular story,

My Naughty Little Sister at the Party

. It all starts when Harry is allowed to invite lots of children to his birthday tea party. My Naughty Little Sister is the first to arrive and Bad Harry proudly shows her the tea-table full of goodies; with Birthday cake, jellies and sandwiches. He then sneaks her into the pantry to view the special trifle. By this time all the other children have arrived and everyone starts joining in with Ring o' Roses. All that is, except Bad Harry and My Naughty Little Sister who are not interested, and who creep back to the pantry to look at the trifle again. However, looking is no longer enough and Bad Harry tells My Naughty Little Sister to take a sweetie from the top. She does so, and Bad Harry then takes one as well.
Then she takes several, and so does Harry, and they have cream on them, which he realises tastes very good, so he plunges his hand into the cream and soon, in a team effort of great naughtiness, there is almost no trifle left. It is at this point that Bad Harry's mother comes looking for them, but before she is discovered, My Naughty Little Sister dashes out of the back door and runs all the way home. She is then very very sick and is never interested in trifle again.